ALMÁSI BALOGH PÁL HOSPITAL AND OUTPATIENT CARE CENTRE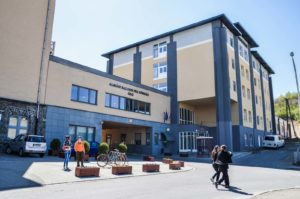 Welcome to the website of our Hospital!
Ózd is frequently referred to as the city of seven valleys, and our hospital can be found atop of a hill as well; far from the chimneys that used to emit a vast amount of smoke and – living only in our memories by now – the noise of the factory. The town, lying in magnificent natural surroundings, built the hospital into a uniquely beautiful sanitarium-like environment on the confines of the city with exquisite panorama, surrounded by a green belt area.
We are receiving our patients and providing them with medical attendanceon 340 beds, 10 departments, with 50 specialty cares, attendants and a central diagnostic unit.
Ózd can be found in the North-Hungarian region, in the northwestern part of Borsod-Abaúj-Zemplén County. It is a town situated along the Slovakian border, with a population of approximately 34.000. The town is 60km away from the county town, Miskolc; and 150km away from the capital city, Budapest.
Our website presents the activity of the institution in detail. Besides the consulting hours, a lot of other useful information can be found on the website, which helps the orientation of the enquirers. In case you have a question, you can call us on the granted phone number, and we will use our best efforts to cordially help you.